FROM ANDALUCÍA TO AMÉRICA
1886
• José Gregorio López Rivas arrives in Argentina, from Algarrobo in Málaga, Spain, where he grew vineyards and olive trees with his family. He decided to establish his vineyards in Argentina and thus escape a devastating plague, phylloxera, which affected the vines in Europe.

1889
• Working and saving his money to the maximum, he managed to bring his brother Rafael, and shortly after, his mother Fernanda and his brothers Federico and Matilde. Far from their land, but together again, their winemaking tradition soon surfaced.

1898
• The brothers moved to Mendoza, where they rented a small piece of land in General Gutiérrez, Maipú. Under the conduction of José Gregorio, they begin elaborating their wines, produced with their own grapes.
Shortly, the López Rivas brothers managed to establish a solid clientele, which allowed them to formalize their first commercial partnership: José López & Hnos.
1898
• In March, its first wines are produced at the best areas of Mendoza. These, of great acceptance, were commercialized in oak barrels. The founding brand was "El Vasquito".
• They began to forge their own style, with dedication and above all with undeniable conviction, "The López Style".
• On September 19th, José Federico López -José Gregorio López Rivas' only son- was born, a direct follower of the paternal spirit and deed, who would guide the destiny of the future family business.
• An increase of the availability of wines is sought due to the growing demand.

Decade of 1910
• At the end of the decade, José Federico López started collaborating with the company. He fully incorporated in 1922 which meant a decisive stimulus for the growth experienced by the company in subsequent decades.
• With this new conformation, the Winery will accompany the increase in vineyard surfaces with a constant enlargement in its aging capacity in French oak casks.
Consolidation
1927 – 1959
FINE WINES AND OPENING TO THE WORLD
Decade of 1920
• In the mid-1920s, the original firm is replaced by "José López e Hijo".

1927
• Appears the first fine bottled wine: Prestigio de Cuyo.

Decade of 1930
• They grew different varieties of olive trees, with the intention of achieving maximum quality in extra virgin olive oil.
• At the end of the decade the exportation begins.
• The fine wines brands "Prestigio de Cuyo", "Huetel" y "Rincón Famoso" are registered.
1934
• One of the great classics is released: Chateau Vieux red and white. The delicate design of the brand's typography was made by Don José Federico López himself.

1938
• Rincón Famoso red and white appears, with grape varieties in harmonious balance, turned today into classics for the Argentine consumer.

1948
• In October Don José Gregorio López Rivas passes away, his will and ethical standards remained strong in the deeds of his son Federico who continued the journey with his same passion and conviction.
• His grandchildren, José Federico and Carlos Alberto, gradually incorporated, and they will share with their father a prolonged labor of more than forty years at the head of the company.
NEW BRANDS AND FIRST SPARKLING WINES
BODEGAS Y VIÑEDOS LÓPEZ S.A.I.C.
Decade of 1950
• Between 1949 and 1959, the firm changed its name to "Bodegas y Viñedos López S.A.I.C". At that time Jerez FL comes out as a sort of tribute to Andalusian wines.
• Vasco Viejo is released to the market in 1950.

1966
• The third great classic of the Winery is created, the grand reserve Chateau Montchenot, now called Montchenot.

1969
• One of the most recognized brands emerges: Selección López, known today as "López". The coat of arms of the Winery is shown for the first time in this label, another creation of Don José Federico López.

Decade of 1970
• 200% increase in exportation.

1971
• In the First National Wine Contest held at the UVEXPO Mendoza, the international jury awarded 16 prices to Bodegas López's wines, in all its brands and categories.
Decade of 1980
• Members of the fourth family generation incorporate: brothers Carlos and Eduardo López Laurenz, great-grandchildren of the founder, sons of Don Carlos Alberto.

1987
• Sparkling wines production begins: the Montchenot Nature and Mont Reims Brut brands were introduced to the public.

Decade of 1990
• A process of reconversion and modernization begins at a steady growth rate.
• Expansion and remodeling of the dependencies in Mendoza and Buenos Aires.
• Acquisition of new lands for cultivation.

1994
• 95 year-old José Federico López dies in Buenos Aires in March. His ideals can be found in each and every one of the company's memoirs, which will serve as an example of love for the land that sheltered his parents and all his descendants.
• His sons succeeded him, Carlos Alberto in the Presidency and Marta in the Vice Presidency.
1998
• An exceptional wine is released to celebrate the first centenary of the Winery, Montchenot 100 years vintage 1975.
• Then two new creations were incorporated, the Montchenot Gran Reserva 15 and 20 years, renewed every year. Their names refer to the years of aging.
• Construction of a plant exclusively for producing champagnes on the grounds of the Annexed Winery.

1999
• A change in shares occurred in the company, with the family group maintaining its General Management.

2000
• The winery releases a new segment on its wines, the Casona López varietals line, first Malbec and Chardonnay, adding Cabernet Sauvignon, Merlot, Syrah and Semillón afterwards.
• The limited edition Montchenot 2000 Extra Brut champagne was presented, according to this historic occasion, the beginning of the century.

2001
• Traful's is re-released, harvest 2000, a brand born around 1946, now with a new presentation and the same quality as always.
• Montchenot Brut Nature champagne is released.

2003
•  Another novelty, in August a new brand of 100% varietals wines is released: Bodegas López Xero, today Xero.

2004
• López Extra Brut champagne is introduced, followed by the Brut and Demi Sec varieties.
2006
• Federico López Gran Reserva 1996 was introduced, followed in 2008 by Federico López Brut Nature sparkling wine, as homage to José Federico López, son of the founder, creator and great promoter of its fine wines.

Decade of 2010
• The image of Vasco Viejo, Xero, Casona López and López olive oil are renewed.
• New products are incorporated: Montchenot Joven, Montchenot 5 years and López Dulce Natural.
• In some products cork is replaced by a screw cap.

2012
• Wine journalist Miguel Brascó recognized the quality and style of the Winery, and decided to elaborate at the winery a wine designed by him, Miguel Brascó Corte 279, of the exceptional 2002 vintage.

2017
• New products are added to the extensive line offered by the Winery, exceeding 45:
Chateau Montchenot Special edition, vintage 1983, which commemorates and celebrates the 60th anniversary of the first vintage of the great classic, today Montchenot; and the 130th anniversary of the arrival in Argentina of that winemaker immigrant from Málaga, Don José López Rivas, founder of the Winery.
Two new sparkling wines are incorporated: Montchenot Brut Nature Rosé and López Dulce.

2018
• On June 6th, at age 82, Mr. Carlos Alberto López dies in Mendoza. Leaving the legacy of a story built with great effort and love in the hands of his children and grandchildren.

2019
• The presentation of the Traful wine was renewed.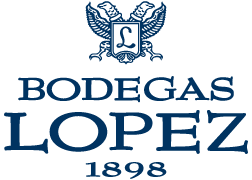 MENDOZA
Ozamis Norte 375 · General Gutiérrez
M5511APG · Maipú · Mendoza
Argentina.
+54 (0261) 497 2406 / 481 1091
+54 9 261 5948023
lopezmza@bodegaslopez.com.ar
Tourism / events: turismo@bodegaslopez.com.ar
BUENOS AIRES
Godoy Cruz 2000 · C1414CYP
Capital Federal · Buenos Aires
Argentina.
+54 (011) 4774 7041 / 7071
+54 9 11 58667239
lopezbue@bodegaslopez.com.ar
MAR DEL PLATA
9 de Julio 4745 · B7600HAW
Mar del Plata · Buenos Aires · Argentina.
+54 (0223) 472 1578
+54 9 223 5193256
lopezmdp@bodegaslopez.com.ar