Since its foundation in 1898, Bodegas López represents an exceptional case within the Argentinean winemaking industry. Still managed by the founding family, it has always offered the best quality; forging a history based on hard work, attention to detail and passion for great wines, supporting a style of its own cultivated by four generations, "The López Style".
INFRASTRUCTURE AND PRODUCTION
Bodegas López has the latest technology, which provides us – from the vineyards –  with grapes of unbeatable quality. With a total capacity of 40 million liters, 5.7 million of them are stored in French oak casks of more than 5,000 liters of capacity.
Furthermore, in stowage we can find vintages from 1938 to the current ones.
Throughout history, Bodegas López has been awarded because of its work and effort to achieve excellence. Whether for its products, gastronomy, hospitality or services, the priority is always to provide an unforgettable experience.
We invite you to take a walk through the most emblematic places of the Winery, know in detail some of the secrets treasured by the López Family and discover the essence of their style.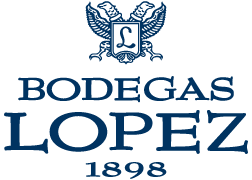 MENDOZA
Ozamis Norte 375 · General Gutiérrez
M5511APG · Maipú · Mendoza
Argentina.
+54 (0261) 497 2406 / 481 1091
+54 9 261 5948023
lopezmza@bodegaslopez.com.ar
Tourism / events: turismo@bodegaslopez.com.ar
BUENOS AIRES
Godoy Cruz 2000 · C1414CYP
Capital Federal · Buenos Aires
Argentina.
+54 (011) 4774 7041 / 7071
+54 9 11 58667239
lopezbue@bodegaslopez.com.ar
MAR DEL PLATA
9 de Julio 4745 · B7600HAW
Mar del Plata · Buenos Aires · Argentina.
+54 (0223) 472 1578
+54 9 223 5193256
lopezmdp@bodegaslopez.com.ar