INFRASTRUCTURE AND ELABORATION
We produce all the wines in our establishments – over 26.000 covered square meters – located in Maipú, Mendoza.
We count with a modern Sparkling Wines Plant, with an isobaric line of production and bottling (uniform pressure) for the elaboration of our sparkling wines.
The whole process, from the planting of vines, harvesting, processing, fractioning, distribution and internal and external commercialization, is carefully controlled with the latest technological equipment, thus achieving results beyond satisfactory.
1,100 hectares of own vineyards distributed in 12 estates located in the High Valley of the Mendoza River, in Maipú and Luján de Cuyo districts, called First Zone and in the Uco Valley, Tupungato district.
Red:
Malbec, Cabernet Sauvignon, Sangiovesse, Merlot, Pinot Noir y Syrah.

White:
Chardonnay, Semillón, Chenin Blanc y Sauvignon Blanc.
After the elaboration process, our red wines are aged in oak barrels from Nancy, France, of 5,000 to 35,000 liters of capacity, 440 in total between barrels and vats.

The aging gives softness and unctuousness since the wood softens the tannins of the wine, thickens its structure and prolongs its life favoring a later stowage in bottle for several years, resulting in wines of greater complexity.

The white wines will be kept in tanks for a maximum period of one year. The aim of the Winery is to obtain whites without wood; fruity, fresh and young.
Our bottling plant consists of two production lines, the main one, capable of producing 12,000 bottles per hour, two 84 cases pallets every five minutes, ready for the consumption.
40 million liters.
5.7 million in French oak casks.
15 million in stainless steel tanks.
19.3 million in epoxy coated concrete pools.
We treasure our classics from the beginning.
We keep the custody of our wines for the grand reserve, limited editions and special harvests.

Around 165,000 Liters in 195,000 bottles between 750ml, 1.5 and 3 Liters.
Our wines are transported by trucks with thermal equipment that control the temperature until destination.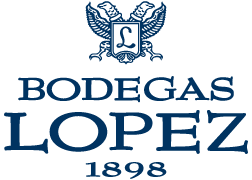 MENDOZA
Ozamis Norte 375 · General Gutiérrez
M5511APG · Maipú · Mendoza
Argentina.
+54 (0261) 497 2406 / 481 1091
+54 9 261 5948023
lopezmza@bodegaslopez.com.ar
Tourism / events: turismo@bodegaslopez.com.ar
BUENOS AIRES
Godoy Cruz 2000 · C1414CYP
Capital Federal · Buenos Aires
Argentina.
+54 (011) 4774 7041 / 7071
+54 9 11 58667239
lopezbue@bodegaslopez.com.ar
MAR DEL PLATA
9 de Julio 4745 · B7600HAW
Mar del Plata · Buenos Aires · Argentina.
+54 (0223) 472 1578
+54 9 223 5193256
lopezmdp@bodegaslopez.com.ar