We invite you to watch our videos and know in detail the secrets that the López Family treasures.
Accompanied by Omar Panella, oenologist of the Winery, we visited the large barrel rooms, where our most important wines -such as Federico López, Montchenot and Chateau Vieux among others- are born.
We show you our Bottling Plant in constant technological updating. We are a traditional winery which seeks to be at the vanguard to offer the best quality in each of the products we make.
At "Rincón de López Restaurant" you will enjoy the best regional flavors accompanied by our great wines. A well lit environment with wide openings and terraces, panoramic views of the mountains and gardens.
Ideal for any event you want.
More than 130 years ago, José López Rivas landed in Argentina seeking for a new beginning. We invite you to know the history of Bodegas López and a style that is kept until today.
A great friend, Fabricio Portelli, sommelier and journalist, tastes few of our iconic wines. We share with you his opinion on a style forged for over a century, "The López Style".
We have participated in radio and television.
Find it out in the following videos.
ENCENDIDOS EN LA TARDE FABRICIO PORTELLI
ENCENDIDOS EN LA TARDE FABRICIO PORTELLI
Cata Vertical de Montchenot
Descorchados: Carmelo Panella
Eduardo López y Julio Pérez
VYP: López de Punta a Punta
NH News: Finca Los Maitenes
Events, sightseeing and much more …
CATA MONTCHENOT 10 AÑOS – MARCOS DE LAURETIS
EN VIVO: Recorrido Virtual – Museo y Cava
EN VIVO: Programa de Poda
De Vino en Lata a Vino de Tonelería
EN VIVO: Degustación Champagnes Montchenot
EN VIVO: Degustación Traful
EN VIVO: Recorrido Virtual – Fermentación
EN VIVO: Degustación Vertical Montchenot
EN VIVO: Recorrido Virtual – Especial Malbec
EN VIVO: Recorrido Virtual a la Champañera
EN VIVO: Recorrido Virtual – Añejamiento
EN VIVO: Recorrido Virtual – Fermentación
EN VIVO: Recorrido Virtual a los Viñedos
EN VIVO: Recorrido Virtual a la Bodega
WeWine 2019 – Buenos Aires
BODEGAS LÓPEZ en MASTICAR 2019

¡ESTUVIMOS EN #MASTICAR!Este finde fuimos parte del evento gastronómico que reúne lo mejor del país.¡Muchas gracias por elegirnos y acompañarnos!.#BodegasLópez #CompartimosNuestraPasión

Posted by Bodegas López - Oficial on Wednesday, August 21, 2019
Masticar 2019 – Buenos Aires
López de Punta a Punta 2019
Tour del Vino en Mendoza, Argentina en Bodegas López
CATA VERTICAL MONTCHENOT

#Momentos #BodegasLópez#Enamorados del Vino, de la Música, de la buena Gastronomía, de la Vida.Compartimos algunos momentos vividos en la Cata Vertical Montchenot, capturados por la mirada de Pol Goldberg..Nuevamente gracias Juanchi Baleiron, Alejandro Maglione, Maco Lucioni, Pablo Strafe , Leo Volpe, Diego Gaona, Pol Goldberg y Miguel Blanco por convertir este encuentro en una noche única..Bodegas López. Vinos con #Historia.

Posted by Bodegas López - Oficial on Thursday, February 14, 2019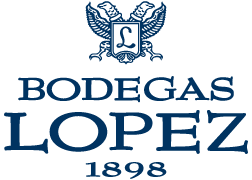 MENDOZA
Ozamis Norte 375 · General Gutiérrez
M5511APG · Maipú · Mendoza
Argentina.
+54 (0261) 497 2406 / 481 1091
+54 9 261 5948023
lopezmza@bodegaslopez.com.ar
Tourism / events: turismo@bodegaslopez.com.ar
BUENOS AIRES
Godoy Cruz 2000 · C1414CYP
Capital Federal · Buenos Aires
Argentina.
+54 (011) 4774 7041 / 7071
+54 9 11 58667239
lopezbue@bodegaslopez.com.ar
MAR DEL PLATA
9 de Julio 4745 · B7600HAW
Mar del Plata · Buenos Aires · Argentina.
+54 (0223) 472 1578
+54 9 223 5193256
lopezmdp@bodegaslopez.com.ar